Markerr examined population and migration trends through March 2022, and found that the top and bottom ten markets for YoY change are similar to 2021 rankings. 
Florida markets continue to show positive population growth (claiming seven of the top spots). Jacksonville, FL is replacing Phoenix, AZ, while Boise, Charleston, and Austin still remain in the top ten. The bottom ten markets are still heavily weighted towards dense, Coastal cities. D.C. and Boston moved out of the worst performing cities and were replaced with Stamford and New Orleans.
Top & Bottom 10 Markets for YoY % Change Growth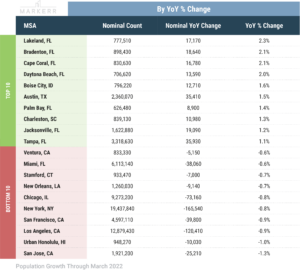 Nominal change is an interesting way to view monthly trends, because MoM percent change numbers are fairly small, given the slow-moving nature of population change. Similar to the YoY trends, large Sunbelt markets gaining the most population MoM, and dense Coastal markets are also losing the most population MoM.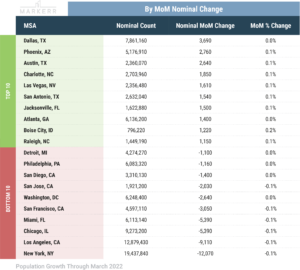 Source: Markerr Population Data
Analysis covers top 100 MSAs in the US