Our latest quarterly report analysis includes income and employment trends through September 2021, allowing for a look at how third quarter activity in 2021 compares to the prior year. This analysis is based on Markerr's Income & Employment dataset, which includes aggregated payroll records for 16M workers and 80K employers in the US. Read more about how investors leverage data beyond the Census and BLS. 
Here are the markets with the most positive momentum through 3Q 2021:
1.  Employment growth is up for the entire U.S., with Sunbelt markets showing greater year-over-year gains
U.S. employment improved both sequentially and by ~4.2% year over year against the Covid comparison period. Orlando saw the most gains in employee growth due to a rebound in the hospitality sector.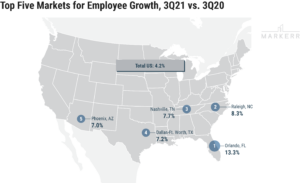 2.  The Transport and Warehousing Sector shows highest year-over-year gains
The combination of an easier comparison period, the sustained acceleration of ecommerce that started in Spring 2020, and known deficits in the supply chain labor market have led to job gains in the transport and manufacturing sector. 

3.  Median income is up across the U.S. compared to the pre-Covid period and Sunbelt markets saw the biggest increase in aggregate Income 
Income growth has been strong across the U.S., with median income up 7% compared to the pre-Covid period of 1Q20. Gateway markets are outperforming Sunbelt markets in terms of income growth, but the Sunbelt experienced greater growth in aggregate income (employees * median income) due to the influx of workers.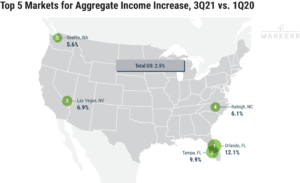 Our next quarterly report looking at trends through 4Q 2021 will be published early next year.