Record-high rent increases are just one of the signs that single-family rentals are in demand and getting more attention from investors. As we covered previously, the SFR asset class shares some characteristics with multifamily, but differences in renter profile, cash requirements and asset appreciation mean that investors need different inputs for accurate underwriting models and projections.
Our recent Top SFR Market Ranking report combined Markerr's Property Data, Income & Employment data, and other sources to project growth by MSA along different characteristics important to SFR investors: IRR, home price appreciation, NOI growth, and cap rates.
The best markets by 5-year unlevered IRR are Phoenix, Tampa, Spokane, Boise City, Memphis, Atlanta, Greensboro, Winston-Salem, Las Vegas, and Riverside.
Boise, ID and Spokane, WA show surprisingly strong NOI margins, NOI growth and HPA growth. Notably absent from the rankings are any Texas markets, due primarily to higher property taxes and recent home price appreciation.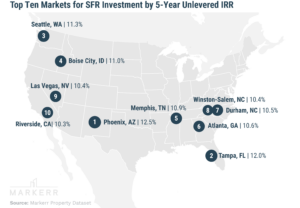 For investors focused specifically on home price appreciation, there is a slightly different set of markets to consider: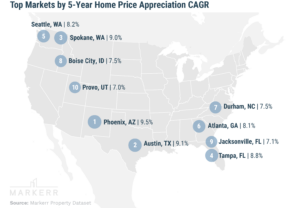 Investing in markets with the highest future potential growth will make the portfolio more valuable, although these markets generally have lower cap rates & cash flow.
We'll be updating these rankings periodically, as well as rental rate forecasts for multifamily assets across different markets.