The single-family rental (SFR) asset class is poised to outperform other real estate sectors over the next decade. With so much opportunity on the horizon, Markerr is launching a series of SFR reports that will provide a deeper look into how this sector is evolving. Our first report, Renting the American Dream, will outline our investment thesis and key growth drivers. 
Why SFR is Positioned to Outperform Other Real Estate Sectors
Reason #1: Aging Millennials Present Opportunity for SFR
With life events like marriage and children coming to fruition, more of the large Millennial cohort will move into larger homes that are more amenable to a family-oriented lifestyle. This same age cohort was the driving force behind the student housing boom during the 2000s and had a big impact on apartment rent increases during the 2010s. 

Reason #2: Suburban Portfolio Positioning is a Benefit to SFR
Most homes, and therefore SFR assets, are located in the suburbs. The suburbs (and exurbs) have been the best performers in terms of employment since the onset of Covid, reflecting a pull forward of demand that will likely continue, given the demographic trends.
Reason #3: Single Family Supply Growth Lags Behind Multifamily
Since the global financial crisis (GFC), there has been significantly less single-family construction and an increase in apartment construction, which has contributed to price increases for single-family homes. SFR construction has been negatively impacted by lower homeownership rates from more stringent lending standards, the increase in materials, and the price of labor.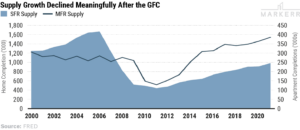 Reason #4: Home Price Appreciation Makes Renting More Likely
Savings for a down payment is the main difference between an SFR renter and a homeowner. With a savings rate of ~9% (FRED) over the past seven years, it would take the median earner ~35-40 months to save for a 20% down payment on the median home price (~$290K), assuming that every single cent was saved for a down payment. The consistent home price appreciation since the global financial crisis and the rapid rise in home prices due to Covid are bullish signals for the SFR business.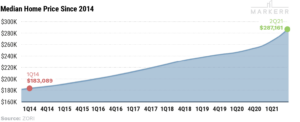 The Single-Family Threat to Multi-Family
There is much more overlap between SFR and suburban Sun Belt apartment owners than other apartment owners. With SFR growing as an institutional asset class, there is a long-term threat to suburban Sun Belt apartment owners since they are competing for similar tenant profiles. The MFR assets least threatened by SFR are Class A apartments in the densely populated urban cores in Coastal markets that cater to high-earning young people. There is likely some overlap between the older tenants in these markets since they are at risk of moving to the suburbs (or Sun Belt), especially if the work-from-home trend continues.
More Good News for SFR Investors
In addition to the favorable demand and supply dynamics outlined in this report, other factors indicate growth in this asset class: 
Technology improvements will likely aid in underwriting, repair and maintenance, and portfolio monitoring, and there are a growing number of companies that offer property management and the next step in that evolution is to use predictive analytics to reduce costs.

There is a plethora of institutional investor interest that is flooding the space with capital, and solutions will often chase capital. 

Digital technology like Markerr will help speed up the underwriting process by identifying high-quality neighborhoods for investment.