As part of a series of market analyses, Markerr looked at Raleigh, NC to explore the characteristics that make the MSA attractive for MFR and SFR investors, developer, owners and operators. While income growth at the median level has aligned with the U.S. average, there are a number of factors including growth among employers, the 25-34 age cohort, and promising hiring data that indicate lots of potential in the market. 
Market Snapshot: Raleigh, NC
Raleigh, North Carolina has outpaced job and employer growth since 2015 compared to the rest of the U.S., and shows no signs of slowing down. Even during the Covid crisis, Raleigh outperformed the broader US. 
The city is one of the three fast-growing cities in the Research Triangle (Raleigh, Durham, Chapel Hill) and is home to three big universities: North Carolina State University, Duke University, and University of North Carolina at Chapel Hill. The highly educated workforce helps to draw high-paying employers in both the technology and health care space.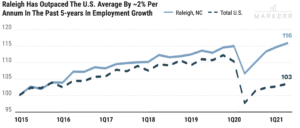 Raleigh is a Highly Desirable Destination for Both Young People & Employers 
Growth in the key 25-34 age cohort illustrates the attractiveness of the area to the younger generation. This is due in part to the affordable nature of the market and the plethora of employment opportunities. The above average employer growth in the region highlights the desirability for companies due to the low corporate tax rates and highly educated population.
This report shows the top hiring companies by number of job postings, as well as a look into different salary bands. In addition, we share insights on why Raleigh is a highly desirable destination for both young people and employers. Finally, we reveal the best areas for rent growth in Raleigh.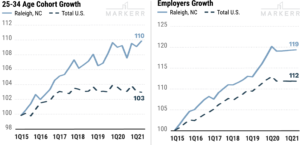 Markerr Identified Raleigh's Top 5 Zip Codes for Employment and Employer Growth
The 27545, 27610, 27529, 27527 & 27591 zip codes are suburban and have slightly lower median incomes, but exhibit outsized growth in both employment and employer growth. Employment metrics, along with the income and demographic data, indicate that these Zip Codes will likely have higher future rent growth. To learn more about why these zip codes are so attractive, download the full report here. 

We Predict a Bright Future for Raleigh 
Our hiring data provides a glimpse into the future of employment in Raleigh at the market level. It shows the top hiring companies by number of job postings, as well as a look into different salary bands (with the median salary highlighted below). The current job postings show there are a number of available job positions in the eds & meds category, as well as in technology and healthcare companies. It is worth noting that the median salary for the top 20 companies hiring in Raleigh have a ~45% higher median salary versus the market average.

To learn more, download the full report here.