New York City has weathered many storms and real estate has recovered along with it. Covid caused NYC rental rates to soften, but the recovery has now begun with concessions abating and positive new lease growth. Our analysis shows that New York rent will eventually recover and surpass pre-Covid levels, but the longer-term outlook on the entire city suggests anemic growth compared to the rest of the US.
Best Investments in NYC, by Zip Code
Markerr forecast rent growth for the five boroughs and has highlighted the most attractive submarkets. The best areas for investment are in Lincoln Square (Manhattan), Ridgewood (Queens), Brownsville (Brooklyn), Jamaica (Queens), and Tremont (Bronx). 
Our proprietary zip code level rent forecast was developed by backtesting our income and employment data to determine which of ~400 variables are most important for each zip code. Then, our algorithm uses these metrics to create a rent growth forecast, identifying areas that are likely to outperform. The final step in the process is to incorporate domain expertise to force rank each zip code.
Below is Markerr's proprietary rental rate forecast for the highlighted zip codes. Rental rates will likely rebound off of the Covid lows for the next two years, then lag in following years. Four of the ~400 income and employment figures for the selected zip codes are included.

NYC Employment Lags, Along With Other Key Metrics
Employment in New York City was hit particularly hard by Covid, as the broader trend of migration out of dense, urban areas had a big impact. The market will likely recover to pre-Covid levels, but it will take time, and will likely be led by younger age cohorts. Supply has remained fairly stable in recent years after the spike to get permits before tax breaks expired (which led to below-average rent growth).

Neighborhood Deep Dive: Tribeca Bets on the Future of In-Person Work
The Tribeca submarket, (zip code 10013) is composed of extremely high-earners. The concentration of finance and insurance workers (~15.5%) is particularly noteworthy. Tribeca has 36% of its population in the 25-34 year-old age cohort, which buoys the the population that are renters (~70%) in the zip code. An investment in Tribeca (and the broader New York City) would represent a somewhat contrarian view that office employment (specifically in the finance sector) will return en-masse. Tribeca specifically is one of the areas that can support extremely high rent prices and makes sense for luxury apartment owners to consider.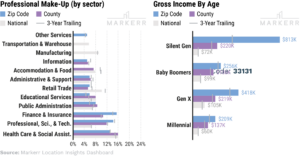 Markerr's Hiring Data Shows the Delta Between Manhattan and the NYC MSA
Compared to the total U.S., the New York City MSA has a higher percentage of workers in health care, educational services, professional, scientific and technical service workers. The hiring data is now available at county-level granularity. Below, we have illustrated how New York City carries a ~35% higher salary relative to the broader MSA. New York, and Manhattan specifically, still have an outsized presence of finance companies that offer high paying positions.