Public REITs are among the largest commercial real estate owners across the U.S., with over 444,000 combined same-store units. They provide a real-time view into market-level performance, acquisition, and disposition trends. 
Here are the takeaways from our analysis of REITs in the second quarter of 2022:
Takeaway #1: Coastal Apartments Beat Sunbelt Apartments in Revenue Growth
For the first time since Covid, Coastal apartments saw better revenue growth than Sunbelt apartments. However, Coastal markets benefited from the easier comp period as well as the normalization of bad debt.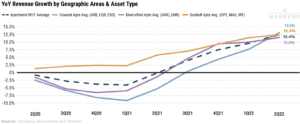 Takeaway #2: Guidance Points to Double Digital Revenue Growth for FY22
All major apartment REITs raised their guidance again, but expect a slower second half given the tougher comp period. On average, Apartment REITs guided for ~11% revenue growth for the full year.

Takeaway #3: Aggregate Income Growth is Highest in High-Growth Markets
Aggregate income growth in markets like Tampa and Phoenix have still been growing at an extreme pace. This illustrates part of the reason that these markets have been able to sustain their high-flying rent growth.
Takeaway #4: Rent Growth Outpacing a Healthy Labor Market
REIT revenue grew ~12.5% YoY in 2Q22, ~3.2x and ~2.7x times faster than employment and income growth, respectively. Even utilizing aggregate income growth (employees * gross income), revenue growth was ~1.3x higher during the quarter. This along with tougher comps in 2H22 suggest a deceleration in YoY revenue growth is coming.

Takeaway #5: REITS Trade Into Markets With Higher Population Growth
REITs continue to trade out of Coastal markets, especially New York, in favor of high population growth markets in Texas, Florida, and North Carolina.