Public REITs are among the largest commercial real estate owners across the U.S., with over 415,000 combined same-store units. They provide a real-time view into market-level performance, acquisition, and disposition trends. 
Here are the takeaways from our analysis of REITs in the fourth quarter of 2021:
Takeaway #1: Rent Growth Accelerated Across the Board
The average revenue growth of the eight apartment REITs was 7.5% during 4Q21, marking a full recovery relative to the pre-Covid growth rate. Coastal apartment REITs saw their best YoY revenue growth since 2019 as the Omicron variant passed its peak and employers revisit return-to-office policies. Both Sunbelt and Diversified players posted near double-digit revenue growth in 4Q21.

Takeaway #2: Double Digit Growth is Expected for 2022
The 2022 is buoyed by strong new lease growth rates, an easy comparison period, bad debt and concessions being a net positive, and a large loss-to-lease gap (in the low-teens). It's an interesting convergence of projected revenue growth across Coastal, Sunbelt, and Diversified REITs, as Coastal markets rebound and Sunbelt markets remain strong. One counterpoint to this optimism is regulatory concerns around rent control. If income growth does not keep pace with rent increases, then the affordability (or lack thereof) component will likely make the voices louder. This is a larger risk in Coastal markets.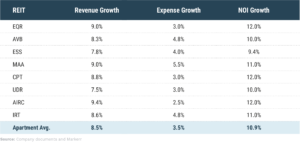 Takeaway #3: Tertiary Markets Show Strong Revenue and Employment Growth
Tertiary markets performed the best in a year-over-year comparison of revenue and employment, followed by the Sunbelt and Coastal markets. Tertiary and Sunbelt markets continue to see the best employment growth. Coastal markets show a slight recovery as return to office acts as a catalyst for future housing demand.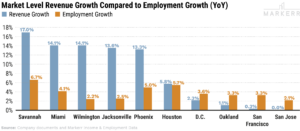 Takeaway #4: The Affordability Gap Shrunk Between the Sunbelt and Coastal  Markets
While Sunbelt markets are still more affordable relative to Coastal markets (~23.5% vs ~26% rent-to-income ratios), the gap between the two continues to shrink as the Sunbelt market sees robust rent growth outpacing income growth. Despite the Coastal markets' continued median income growth year over year, they face regulatory challenges that could hinder rent growth.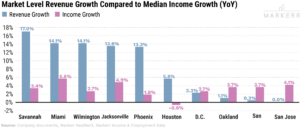 Takeaway #5: SoCal Vastly Outperformed NorCal
There is an extreme divergence in the operating trends of the California markets. The Bay Area (San Francisco, San Jose, and Oakland), is the worst performing geography across the U.S. In stark contrast, Southern California markets, (Los Angeles, Orange County, and San Diego), are performing quite well. 
Los Angeles (the 2nd largest REIT market) has joined Orange County and San Diego in massively outperforming its Northern counterparts. LA experienced the largest change in revenue growth, as well as improvement in YoY employment growth.