Public REITs are among the largest commercial real estate owners across the U.S., with over 444,000 combined same-store units. They provide a real-time view into market-level performance, acquisition, and disposition trends.
Here are the takeaways from our analysis of REITs in the third quarter of 2022:
Takeaway #1: Sunbelt Apartments Are Back on Top for YoY Revenue Growth
Sunbelt apartments, led by MAA (+14.6%), reclaimed the top YoY revenue growth spot after relinquishing it for one quarter to the Coastal apartment REITs.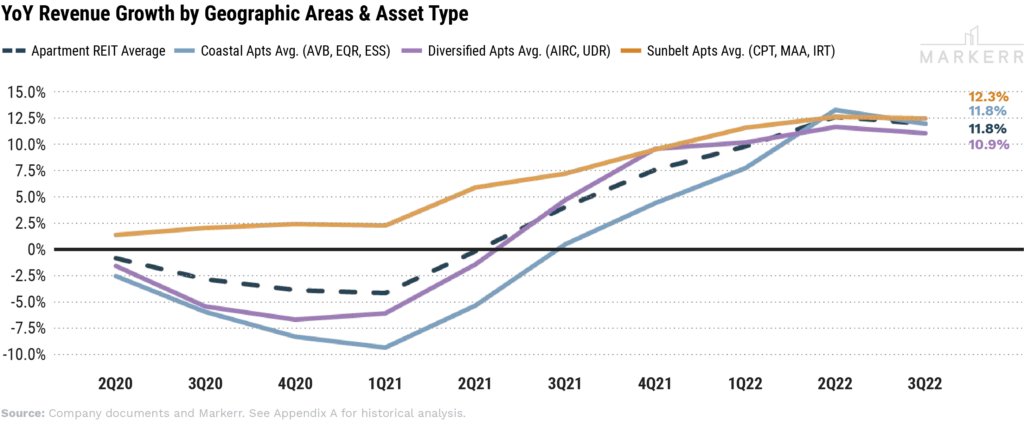 Takeaway #2: Final Guidance Points to Double Digital Revenue Growth for FY22
Apartment REITs modestly adjusted their guidance one final time for FY22. Revenue growth was adjusted upwards by 20 bps, expense growth by 20 bps, and NOI growth by 40 bps relative to 2Q22 guidance. Relative to the beginning of the year, revenue, expense, and NOI guidance was raised by 260 bps, 110 bps, and 350 bps, respectively.

Takeaway #3: Revenue Growth for FY23 Is Likely Still Strong Due to Earn-ins
While it's too early for formal guidance to be issued for FY23, the REITs gave enough details to suggest a mid-single digit revenue growth environment is likely due to 4.75% earn-ins (embedded growth) for FY23. Adding an average market rent growth and closing the 6.0% loss to lease gap suggests ~7-10% growth for nearly all of the large multi-family REITs – barring a massive occupancy drop or major recession.

Takeaway #4: Aggregate Income Growth Is Highest in High-Growth Markets
Although strong aggregate income growth (job growth * income growth) is seen in the top markets, rent growth is still outpacing it. We've also noted the addition of New York to the group of high-flying rent growth markets.

Takeaway #5: Rent Growth Is Outpacing a Healthy Labor Market
REIT weighted average revenue grew ~12.2% YoY in 3Q22, 3.4x and 2.8x times faster than employment and income growth, respectively. Even utilizing aggregate income growth (employees * gross income), revenue growth was 1.4x higher during the quarter.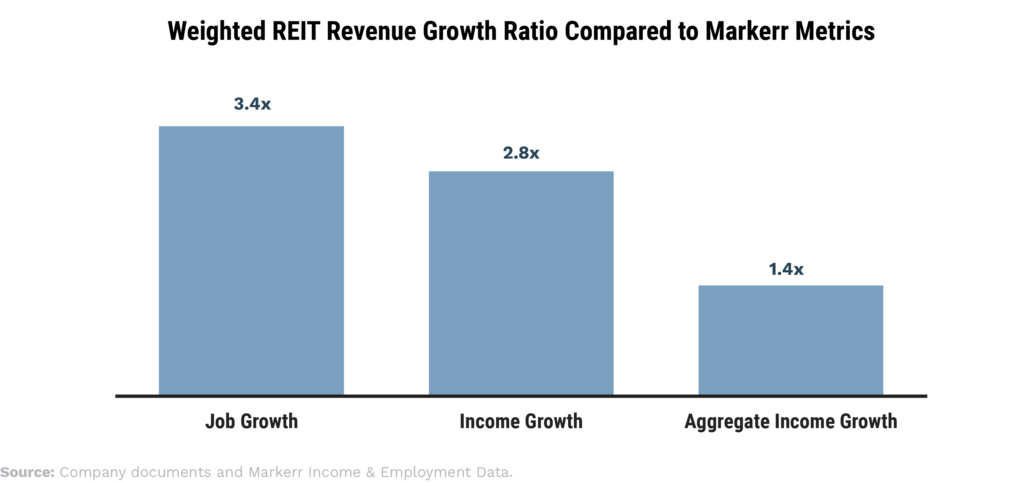 Takeaway #6: REITS Trade Into More Affordable Markets
REITs continue to trade out of Coastal markets, especially New York and Boston, in favor of more affordable markets like Miami, Charlotte, and Tampa. Affordability in this instance is characterized as lower nominal rent numbers.