While the Census Bureau's Population Estimate Program (PEP) just released data through June 2022, Markerr's Population and Migration data is updated through December 2022. Our analysis has notable takeaways including:
Sunbelt markets experienced the largest increase in population during 2022. Markets like Austin, Jacksonville, Phoenix, Tampa, and Raleigh ranked the highest on YoY percent change in population.
Coastal markets continued to experience population declines during 2022. Markets like the Bay Area, Los Angeles, New York, and Chicago saw the largest YoY percent decline in population.
Markerr data shows that suburban Charlotte, especially in the Southwest and Northeast, has seen continuous migration growth since the onset of Covid.
Sunbelt markets were the largest winner in terms of Migration Growth in 2022. Collectively, the geographic area saw 0.5% net in-domestic migration as a percentage of the prior year's population. This represents little change from 0.6% of last year's figure. On the other hand, Coastal markets saw -0.7% which represents a slight improvement of net out-domestic migration.

Although Sunbelt markets still saw better nominal net migration gain, Coastal peers who reported the greatest population declines in 2021, are seeing a mean reversion in migration growth.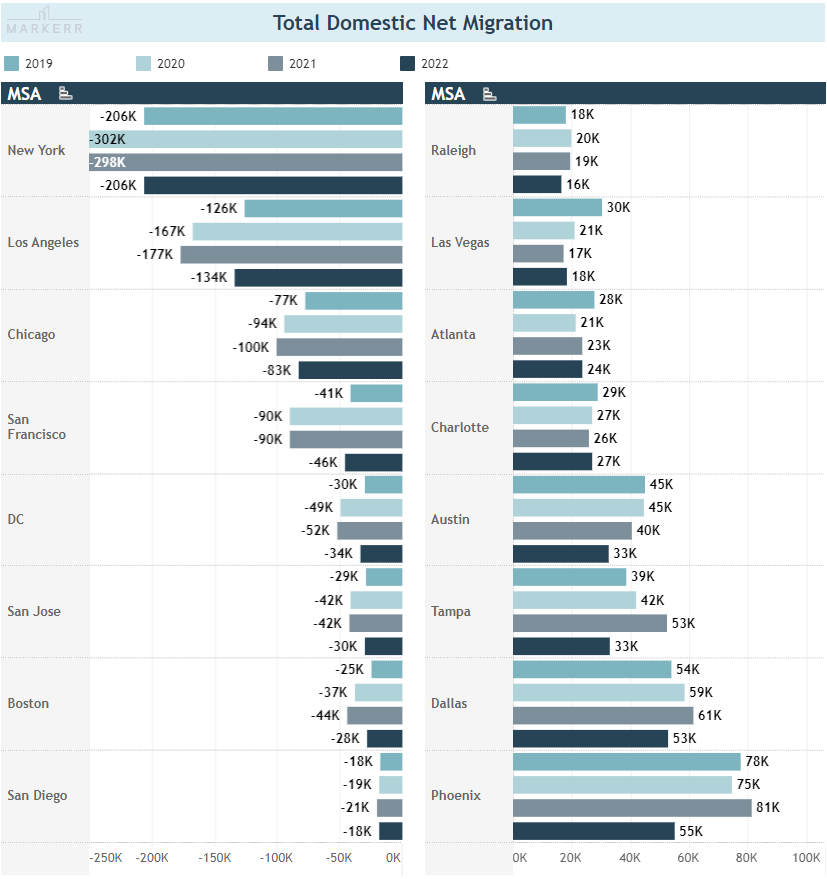 However, for the month of December, selected Costal markets such as Bay Area, Los Angeles, New York, and Chicago saw negative year-over-year change in total population.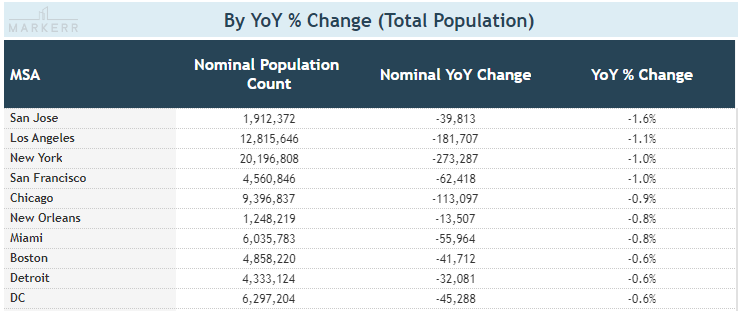 Additionally, we created an interactive chart illustrates how migration trends have shifted from intra-pandemic to post-pandemic. You can also view this interactive report on our Tableau Public page.