In the months leading up to the Covid 19 pandemic, MFR real estate was booming. Occupancy was at or near all-time high and rental rates were clipping along at a healthy ~3% at stabilized assets. Cap rates were also creeping lower, with a compression in yields between Gateway and Sunbelt apartments. The yield between quality types compressed as well, and the search for yield and the value-add bid was heating up.
When Covid began spreading across the country, it accelerated geographic and demographic trends that were already underway, specifically the movement of employees to the Sunbelt and towards the suburbs. Since employment and income growth have an enormous influence on rental rate growth, Markerr looked even more closely at this trend. We divided our top market picks into three distinct market categories: Sunbelt, Gateway and Tertiary. 
Markerr's Top Picks by Market Type: 
Sunbelt: Raleigh-Durham, Austin, and Denver 

Gateway: Boston and Seattle 

Tertiary: Boise and Provo-Orem
Implications for Residential Real Estate
Insight #1: Sunbelt markets and suburban areas meaningfully outperformed Gateway markets and urban areas during Covid in terms of employment, rent growth, and asset values.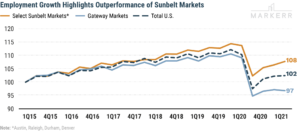 The Sunbelt held up much better during Covid and generally saw a modest increase in asset values relative to pre-Covid values. Rent growth also held up much better since the Sunbelt markets generally reopened their economies faster than the Coastal markets. Local governments do not interfere with economics to the same extent as in Coastal markets (e.g. Los Angeles enforced eviction moratoriums at the expense of landlords). Also, employees (and employers) have been moving towards the Sunbelt and that trend shows no sign of slowing down.
Insight #2: The suburban trend will likely continue as Millennials age and hybrid work solutions become mainstream. An interesting way to view this is through the lens of Coastal apartments REITs, Sunbelt apartment REITs, and single-family rentals (SFR) REITs.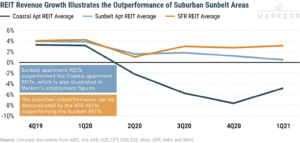 Aging Millennials are nearing life events like marriage and children that require more space. Hybrid work from home solutions that only require employees to come into the office part-time will make it easier to stomach longer commutes. Suburban areas offer more affordable options.
Insight #3: Select Sunbelt markets will likely continue to outperform, and there will be a rebound in Gateway markets off the Covid lows. This means people will return to the city. Our top picks are Boston and Seattle.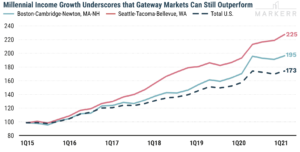 The biggest driver of negative net migration from cities is the decline of in-migration, and there is likely pent-up demand for the urban experience, including from recent college graduates. Humans are social creatures by nature and cities offer unparalleled opportunities for people to connect.