The Dallas market has modestly outperformed the broader U.S. over the past five years in terms of rent growth and Markerr predicts this trend to continue, driven by factors such as outsized population, job, and employers growth. Markerr took a deep dive into Dallas and identified the five neighborhoods with the best rent growth potential. 
Strong Demand Side Indicators, Middle of the Pack Rent Growth Performance
Dallas saw a 5.3% rent growth CAGR over the past five years, causing it to rank 41st  out of the top 100 MSAs. In the past year, Dallas saw 8.8% rent growth. Dallas has outperformed on every demand side indicator over the past five years. Markerr projects Dallas MSA-level rent growth will continue to modestly outperform the US over the next year.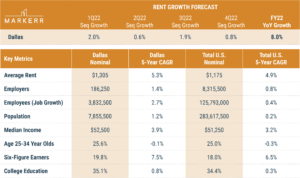 Supply Still Growing, but In-Migration Contributes to a Massive Housing Shortage
Dallas has seen an increase in supply over the past decade, which is potentially one of the reasons for the middle-of-the-pack rent growth over the past five years. Dallas has still accumulated a massive housing shortage over the last decade, totaling ~300,000 units at the end of 2021, driven by the growing number of new households. 2021 was the first year that supply has met demand, but Dallas remains in dire need of new supply.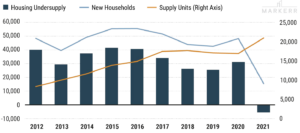 Five Dallas Neighborhoods Are Projected to Have Double Digit Rent Growth
Markerr's proprietary rent forecast identified five zip codes in Dallas that will likely outperform over the next year. Each has above average rent growth, population growth, job growth, income growth, and a fairly high concentration of 25-34 year-olds.  

Best Investments By Zip Code: 75244, 75063, 75230, 75201, 75204 
Below are income and employment figures for the selected zip codes, from Markerr's Income, Employment and Population dataset. 

Neighborhood Deep Dive on Uptown-Oak Lawn
The Uptown-Oak Lawn submarket (zip code: 75219) is an affluent area with a high concentration of healthcare, professional, scientific, technical and finance workers. The Millennial age group earns almost twice the average income of the same group in the broader Dallas metro area. This is attributed to young workers who choose to live closer to where they live, work, and play. About ~48% of the population in this zip code are 25-34 year-olds versus the market average of ~25% amongst other zip codes in the Dallas area. In addition, the population has grown ~2.3% over last year.
Hiring Activity Points to Growth in Median Income in Dallas Metro
Compared to the total US, Dallas has the same top sectors with the exception of professional, scientific, and technical workers. Hiring data shows that the healthcare sector continues to grow as six of the top 20 employers in the area are hiring an aggregated total of ~15,050 positions. The weighted average of the median salary for the hiring data across Dallas is $69,500, which is ~32% higher than the current median salary of $52,500.