In the past year, Markerr has analyzed a wide array of datasets to identify the best commercial real estate opportunities in the U.S. 
To identify the markets with the best performance in 2021, we compared income and employment trends from the fourth quarter of 2020 to data from the third quarter of 2021. Here's a snapshot of some of the top markets that have shown the most growth in the last year:
McCallen, Texas Had the Highest Employment and Aggregate Income Growth
Growth in health care and educational services ramped up employment in McCallen while the return of tourism in Orlando and Honolulu drove employment growth in those cities.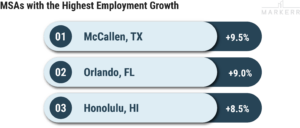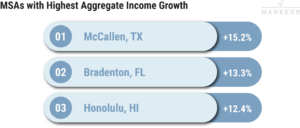 Bradenton, Florida Had the Highest Income Growth
The pandemic increased demand for frontline health care workers in Bradenton, Florida and McCallen, Texas. In Seattle, the tech sector continued to lead employment growth as Amazon and MicroSoft continued to hire workers. 
MSAs in Utah and Texas Had the Highest Growth of Young People
Ogden, Utah, El Paso, Texas and McCallen, Texas had a higher than average share of 25-34 year olds going into 2021, with an average 28.2% of this age group compared to the US average of 25%. These three MSAs continued to see growth among this cohort. Affordability may be one reason that 25-34 years may be flocking to these locations.