Markerr's analysis of income and employment trends through Feb. 2022 shows that Orlando, Las Vegas, Dallas are the top-ranking markets for employee growth relative to pre-Covid performance. The data is indexed to 100, so any values over 100 indicate higher employment levels than Feb 2020 (the last pre-Covid period).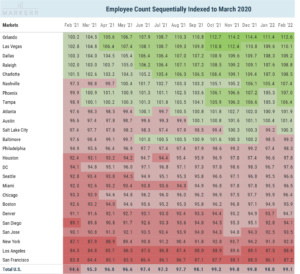 Year over year growth in employee count shows that the sectors impacted by Covid, including entertainment and hospitality, see a massive employment rebound from a year prior, before vaccinations were widely available. Transportation and Warehousing continues to grow, fueled by e-commerce activity.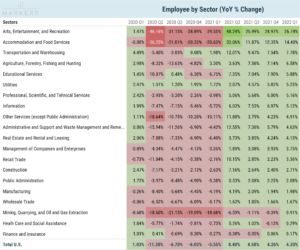 This analysis is derived from Markerr's Income & Employment Data, providing a timely view at trends impacting rent growth, at the block group level.