As the US Census Bureau begins to release its data for 2020, it's important to keep in mind that the agency has faced unprecedented data collection challenges. The Covid pandemic and partisan politics led to difficulties with response rates and delays that forced the Census Bureau to reevaluate and redesign its plans. While the 2010 Census had a 74% nationwide response rate, the 2020 Census saw a 66% average response rate across the country. 
Now that the first group of Census data is available, the bureau has acknowledged some anomalies, resulting from delays caused by the pandemic. One notable difference is that the 2020 Census does not provide block-level statistics that are useful for planning and research. 
The unique challenges with data collection for the 2020 Census highlight the need for alternative sources of data. We believe that the Census can be used as a powerful starting point for analyzing real estate investment opportunities. Our data feeds, dashboards and reports are built from a network of proprietary and public data sources for faster, more accurate evaluations based on employment, income, demographics, spending and other key economic trends. This paints a much more robust picture than any one data source – even one as abundant as the US Census. 
For example, we know that a variety of factors influence rental rate growth, but arguably none more important than income growth. Higher income growth, whether driven by higher wages or by new high-paying jobs coming into a market, allows for a better absorption of rent increases. There is a notable difference in the correlation between Markerr's Payroll Data and income data from the Census when compared to Census rent data. In addition, our data is updated more frequently with only a 45-day lag, which benefits market participants in predicting rental rate growth.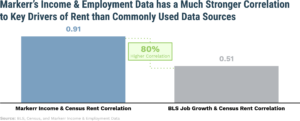 Public data, such as the Census, provides a starting point for data analysts. Sophisticated analysis is derived from multiple sources each generating incremental insight for greater overall understanding. Our solution combines data about drivers of demand and supply, providing context in one unified platform to get a consistent look at any property or market. By connecting, geocoding and indexing a unique data network, Markerr gives commercial real estate investors accurate, forward-looking insights to make data-powered decisions with added confidence.