With 29.1% of the population in the 25-34 year old age group, Denver has one of the highest nominal percentages of Millennials in the country, and the constant stream of Millennial in-migration leads to a steady supply of renters.
In addition to Millennial presence, we looked at other key factors including six-figure earners, employer growth and more from Markerr's Income and Employment data to identify the most promising submarkets and calculate rental rate forecasts.
Best Investments By Zip Code: 80221, 80214, 80232, 80021 & 80211 
These zip codes represent suburban neighborhoods in the process of gentrifying, and are concentrated on the western side of Denver. They range from Broomfield down to The Highlands, Lakewood and near Sherrelwood and Berkley. Several are close to Highway 36 and near the tech corridor toward Boulder.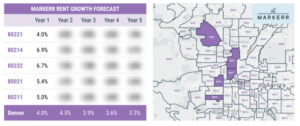 Download the report for the complete rent growth forecasts
Neighborhood Deep Dive on RiNo: An Attractive Tract for Class A Investors
The River North Arts District (RiNo) is located west of the heart of Denver, near Union Station and Union Station North, Coors Field, and Lower Downtown (LoDo), in the 80205 zip code. The area has already been gentrified and has seen faster population growth relative to the surrounding MSA. It's home to an extremely high concentration of 25-34 year olds, as well as above-average earners.
The chart below, Gross Income by Age, illustrates Millennial earning power in the RiNo District.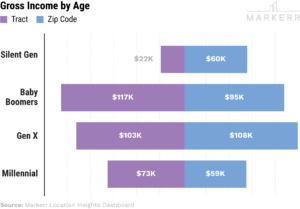 Hiring Activity Highlights a Diverse Employer Base in Denver
Denver's economy is fairly diversified and includes health care, financial services, aerospace and defense, and technology. The concentration of professional, scientific, and technical services jobs is much higher than the U.S. average, which is 7%. Our hiring data shows the top hiring companies by number of job postings and looks into different salary bands (with the median salary highlighted below). The weighted average of the median salary for the hiring data across Denver is $75,000, which is ~30% higher than the current median salary of $57,000.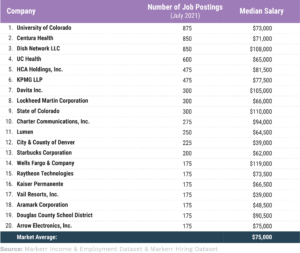 How Markerr Calculates Zip Code Rankings
Markerr's proprietary zip code level rent forecast is developed by backtesting against our income and employment data to determine which of the ~400 variables are the most important for each zip code. The algorithm then forecasts these metrics into the future, to create a rent growth forecast, and identify areas that are likely to outperform. The final step in the process incorporates domain expertise to force rank each zip code.