The Atlanta MSA has seen significant growth over the past five years. With 7.2% rent growth CAGR, Atlanta ranks 15th out of the top 100 MSAs. In the past year, Atlanta saw ~14% rent growth. Markerr took a deep dive into Atlanta and we project that rent growth will continue to outperform the rest of the county over the next five years.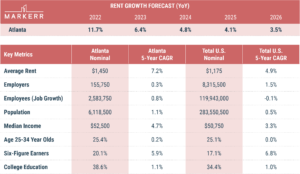 Chronic Housing Shortage Drives Demand Near Corporate HQs
Atlanta has accumulated a massive housing shortage over the last decade, totaling ~200,000 units at the end of 2021, driven by the growing number of new households. 2021 was the first year that supply has met demand, but the MSA is still in dire need of new supply. Markerr's top zip code picks are in Northern Atlanta, where nearly 20 Fortune 500 company headquarters are located.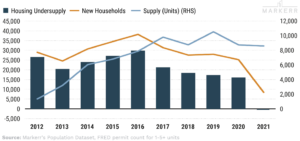 As Occupancy Peaks, Market's Rent Forecast Predicts High Growth in Northern Atlanta in 2022
Markerr's proprietary rent forecast identified five zip codes in Atlanta that will likely outperform over the next five years. Each has above average rent growth, population growth, job growth, income growth, and a fairly high concentration of 25-34 year-olds. They also are located in the Northern part of Atlanta close to large employers. Below is Markerr's proprietary rental rate forecast for the highlighted zip codes. 

Best Investments By Zip Code: 30005, 30075, 30033, 30084, 30318 
Below are important income and employment figures for the selected zip codes, from Markerr's Income, Employment and Population datasets. More income, employment, and population details can be found by downloading the full report. 
Neighborhood Deep Dive on Ansley Park
The Ansley Park submarket (zip code 30309) is an affluent area with a high concentration of healthcare, professional, scientific, technical and finance workers. It's appealing because gross income in the area is roughly double the metro average, it has an extremely high percentage of 25-34 year-olds at ~47% versus the market average of ~25%, and population growth that has outpaced the MSA average. There is also a large delta between the area's percentage of college graduates and the metro. Ansley is also close to employment centers like Piedmont Park and Downtown Atlanta.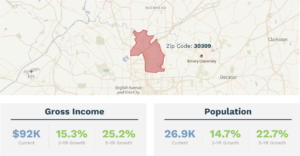 Hiring Activity Points to Growth in Median Income in Atlanta Metro
Compared to the total US, Atlanta has a higher percentage of professional, scientific, and technical workers. Healthcare is already a large portion of the market and the top 20 companies that are hiring focus on healthcare. Markerr is also watching job growth in the tech sector as Walmart, Capital One, and Microsoft recently announced plans to expand their presence in the area. The weighted average of the median salary for the hiring data across Atlanta is $71,500, which is ~36% higher than the current median salary of $52,500.