Public REITs are among the largest commercial real estate owners across the U.S., with over 415,000 combined same-store units. They provide a real-time view into market-level performance, acquisition, and disposition trends. 
Our analysis of REIT performance in the third quarter of 2021 found three key trends:
Trend #1: Apartment REITs Achieve V-Shaped Recovery 
The average revenue growth of the eight apartment REITs was 4.0% during 3Q21, marking a full recovery relative to the pre-Covid growth rate. On a non-weighted market average, YoY revenue growth for 3Q21 was 6.2%. The outlook for 2022 is buoyed by strong new lease growth rates, an easy comparison period, bad debt and concessions being a net positive, and a large loss to lease gap (low-teens).
Trend #2: Tertiary Markets Show Strong Revenue & Employment Growth
Tertiary markets performed the best in a year-over-year comparison of revenue and employment, followed by the Sunbelt and Coastal markets. Tertiary and Sunbelt markets continue to see the best employment growth. The Bay Area in particular,  continues to lag and bear the risk of being overexposed to the tech sector, which is disproportionately impacted by remote work. 

Trend #3: Revenue & Income Growth Are Not Highly Correlated in 3Q
Coastal markets have better YoY growth in median income. This is likely driven by a lack of affordability and changing employment trends as less affluent employees are leaving the most expensive MSAs.
The aggregate income increase in Sunbelt markets is likely not captured by tracking median income, as markets like Southeast Florida have seen an aggregate income increase of $4.25 billion (~101,000 employee increase * median income of ~$42,000).

Market-specific trends include: 
Trades: Reduce CA Exposure, Swap D.C., & Buy the South
Compared to 2Q21:
•  New York and Los Angeles remain a source of funds. SF is a larger addition.
•  Dallas and Atlanta remain large acquisition markets.
•  Charlotte replaced Nashville as an  acquisition market.
•  Seattle and Boston are the only Gateway markets that saw net positive investment activity.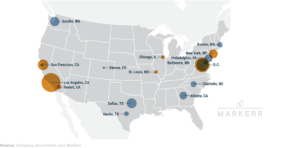 Suburban Southern California Outperforms Rest of State
There is an extreme difference in the operating trends of California markets. The Bay Area, (San Francisco, San Jose, and Oakland), is the worst performing geography across the U.S. In stark contrast, Southern California markets, (Los Angeles, Orange County, and San Diego), are performing quite well. 
Comparing the more suburban, relatively more affordable areas of San Diego and Orange County to Los Angeles, and Oakland to San Jose and San Francisco, shows that the operating trends of the more suburban areas are significantly better. 

AVB Begins Announced Entrance to Dallas, TX
AVB's acquisition of the Nexus Lakeside in Flower Mound, TX, is in a submarket with strong population growth, high gross income growth, and high earning Millennials. This deal is more suburban, and is currently benefiting from a growth in employers in the area, especially from high-paying jobs in finance and STEM.