Markerr analyzed effective rent growth by market, occupancy trends and rent-to-income ratios for the top 100 markets in the second quarter of 2022 and found that national rent growth began to slow down since the Spring when the Federal Reserve started raising rates to help combat inflation. Here is our analysis: 
U.S. Monthly Rent Hits a New Record
U.S. YoY Rent Growth was ~7.7% in July 2022, down from ~9.0% in June 2022. However, the average U.S. monthly rent hit $1,612 in July 2022, a new record.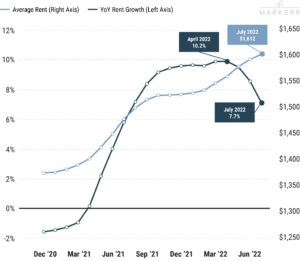 1 Bedroom Units Outpace 2-Bed and 3-Bed Units in YoY Rent Growth
Rent for 1-bedroom units grew 8.3% YoY, led by three cities in Florida: Cape Coral (+19%), Palm Bay (+16%), and Orlando (+16%), and one market in North Carolina: Durham (16%). 
Rent for 2-bedroom units grew 7.9% YoY, led by Cape Coral (+23%), Miami (+17%), Durham (+16%), and Charleston, NC (+16%).
Rent for 3-bedroom units grew 5.2% YoY, led by Florida markets in Palm Bay (+19%), Cape Coral (+14%), Miami (+14%), and Deltona (+14%).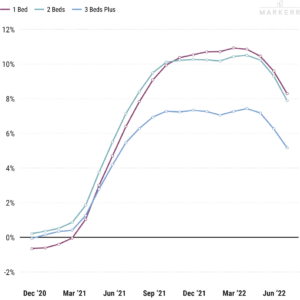 Sunbelt Markets Remain Leaders in Rent Growth, Posting Double-Digit Figures
Florida and the Carolinas dominate the top 10 markets for rent growth.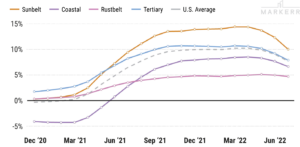 Month-over-Month Data Shows Some Markets Experienced a Cool Down In Same Store Rent Growth
Ten of the top 100 largest metros posted negative month-over-month rent growth. Durham had the largest month-over-month rent growth at 1.9%, followed by other Carolina markets.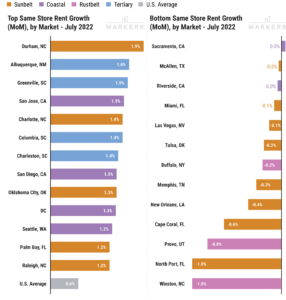 As Rent Outpaces Household Income Growth, Renters in Florida Become More Burdened by Rising Rents